KIA: In Memorium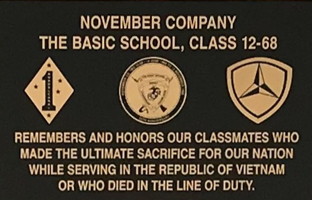 KIA Memorial Plaque
(click on the image to see it all)
Greater love hath no man than this, that a man lay down his life for his friends.
[John 15:13, King James Bible, 1769]
From a Remembrance on brother Harold. B. Kimbrough's memorial page, a Native American prayer which was submitted by Chris Spencer on 2004-04-15:
It is said a man hasn't died as long as he is remembered. This prayer is a way for families, friends and fellow veterans to remember our fallen brothers and sisters.
Do not stand at my grave and weep
I am not there, I do not sleep.
I am a thousand winds that blow,
I am the diamond glints on snow.
I am the sunlight on ripened grain,
I am the gentle autumn rain.
When you awaken in the morning hush,
I am the swift, uplifting rush
of quiet birds in circled flight,
I am the stars that shine at night.
Do not stand at my grave and cry,
I am not there, I did not die.
Please visit each brother's Vietnam Memorial page and try to submit pictures and rembrances for those who do not have any.
| | | |
| --- | --- | --- |
| 2Lt Roy Franklin Phillips | Vietnam Vets. Memorial Page | |
| | unit | B Co, 1st Bn, 5th Mar |
| | dob | 1946-10-26 |
| | kia | 1969-01-20 |
| | panel | 34W |
| | line | 044 |
| | home | Sarasota |
| | county | Sarasota |
| | state | FL |
| | KIA Province | Quang Nam |
| 2Lt Jon Frederick Warmbrodt | Vietnam Vets. Memorial Page | |
| | unit | L Co, 3rd Bn, 26th Mar |
| | dob | 1946-04-02 |
| | kia | 1969-01-25 |
| | panel | 34W |
| | line | 080 |
| | home | Santa Monica |
| | county | Los Angeles |
| | state | CA |
| | KIA Province | Quang Ngai |
| 2Lt Gerard Francis Paulsen | Vietnam Vets. Memorial Page | |
| | unit | G Co, 2nd Bn, 7th Mar |
| | dob | 1946-08-11 |
| | kia | 1969-02-23 |
| | panel | 31W |
| | line | 015 |
| | home | Cambria Heights |
| | county | Queens |
| | state | NY |
| | KIA Province | Quang Nam |
| 2Lt William Howard Hunt | Vietnam Vets. Memorial Page | |
| | unit | E Co, 2nd Bn, 4th Mar |
| | dob | 1946-11-06 |
| | kia | 1969-02-25 |
| | panel | 31W |
| | line | 049 |
| | home | Merritt Island |
| | county | Brevard |
| | state | FL |
| | KIA Province | Quang Tri |
| 2Lt James William Simms | Vietnam Vets. Memorial Page | |
| | unit | D Co, 1st Bn, 9th Mar |
| | dob | 1945-02-09 |
| | kia | 1969-02-26 |
| | panel | 31W |
| | line | 072 |
| | home | Carrollton |
| | county | Carroll |
| | state | MO |
| | KIA Province | Quang Tri |
| 2Lt Chester Andrew Molley | Vietnam Vets. Memorial Page | |
| | unit | E Co, 2nd Bn, 9th Mar |
| | dob | 1945-04-09 |
| | kia | 1969-04-23 |
| | panel | 26W |
| | line | 033 |
| | home | Morristown |
| | county | Hamblen |
| | state | TN |
| | KIA Province | Quang Tri |
| 2Lt Fred Andrew Hartman, Jr. | Vietnam Vets. Memorial Page | |
| | unit | C Co, 1st Bn, 5th Mar |
| | dob | 1946-01-24 |
| | kia | 1969-04-25 |
| | panel | 26W |
| | line | 045 |
| | home | Palos Heights |
| | county | Cook |
| | state | IL |
| | KIA Province | Quang Nam |
| 2Lt Charles H. Pilkington, Jr. | Vietnam Vets. Memorial Page | |
| | unit | D Co 1st Bn, 5th Mar |
| | dob | 1946-09-29 |
| | kia | 1969-05-14 |
| | panel | 24W |
| | line | 010 |
| | home | Knoxville |
| | county | Knox |
| | state | TN |
| | KIA Province | Quang Nam |
| 2Lt James Calvin Cockerl | Vietnam Vets. Memorial Page | |
| | unit | A Co 1st Bn, 3rd Mar |
| | dob | 1945-12-27 |
| | kia | 1969-05-19 |
| | panel | 24W |
| | line | 052 |
| | home | Lynbrook |
| | county | Nassau |
| | state | NY |
| | KIA Province | Quang Tri |
| 2Lt Michael Patrick Quinn | Vietnam Vets. Memorial Page | |
| | unit | H Co, 2nd Bn, 7th Mar |
| | dob | 1946-05-27 |
| | kia | 1969-08-29 |
| | panel | 18W |
| | line | 008 |
| | home | Charleston |
| | county | Suffolk |
| | state | MA |
| | KIA Province | Quang Nam |
| 1Lt Harold Bruce Kimbrough | Vietnam Vets. Memorial Page | |
| | unit | HMM­262, MAG­16 |
| | dob | 1946-04-12 |
| | kia | 1970-09-22 |
| | panel | 07W |
| | line | 084 |
| | home | Batesville |
| | county | Independence |
| | state | AR |
| | KIA Province | Quang Nam |